Origin Collection Table 1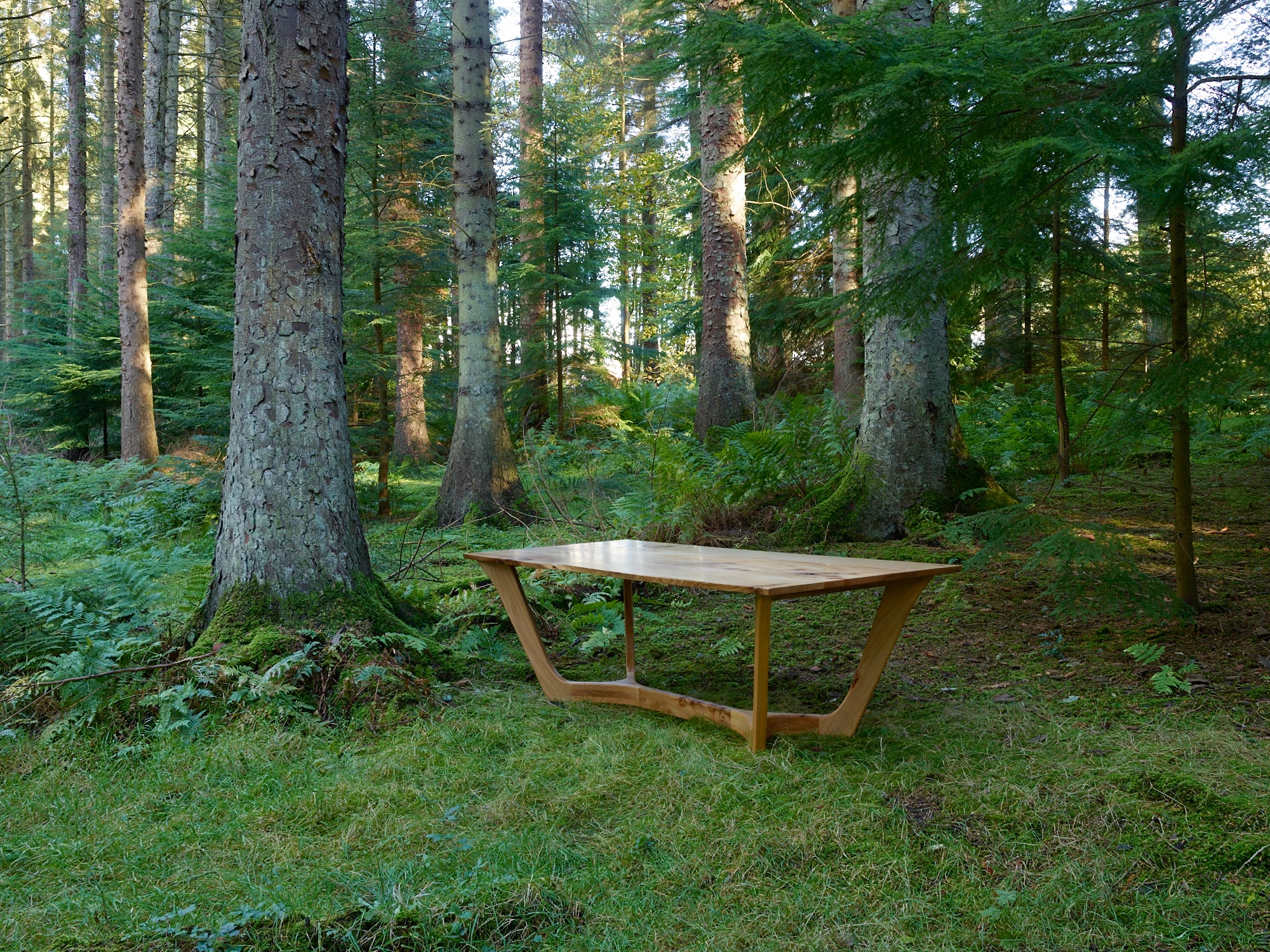 Origin Collection Table 1
Inspired by the elegant form of a tree's shapely limbs, the flagship piece from our Origin Collection is a family table designed to be the hub of a home for generations.
The lithe, sculptural shape of the table's legs almost wraps itself around you as you sit, subtly presenting the slim - but dependably solid timber top - with a grace and balance which took many (many) hours to refine and perfect.
The slightly chamfered-edged top is removable (countersunk socket bolts, in grooves to allow the table top to move as the weather changes) for ease of delivery/installation. But due to the slightly unusual, sculptural shape of the legs and the low, fixed foot-rail, we recommend contacting us before purchasing to discuss access to the proposed space - as tight corners can be tricky!
Each table is hand-shaped from solid hardwood (Scottish timber for more character, scars and flaws, European timber for cleaner, less anarchic grain feature) and finished in semi-matte hard-wax-oil for a durable, water resistant finish.
Each table top size varies slightly, as the timber we source can vary a little, and on occasion it will balance better in a slightly wider, or narrower arrangement. Scottish timber in particular, is often no longer than 2.2m at usable widths - because our weather is so brutal, and this can also limit the top size with native material.
European timber is usually longer, cleaner and wider, meaning we can create much bigger tops/tables. These timbers are beautiful, and tonally very similar indeed to their Scottish counterparts…But you invariably sacrifice a little in the way of native colour and drama.
Please check our stock for currently available sizing, or contact us with a scale preference. As a guide, a 2.2m x 90cm table will comfortably seat 6-8 people, whilst a 2.4m x 1.2m table will seat 8-10.
Bespoke sizing and material options are available upon request, on a made-to-order basis. Prices vary dependent upon scale and timber. Please do contact us to discuss., or drop into the shop in Linlithgow to get a better feel for the size and proportions in person.
Durable but super-smooth hard-wax oil finish (because coasters have no place on a family kitchen table!)
Shown in main image in Scottish elm
Lead Time: 10-12 weeks
Our larger furniture items can collected be in person from the workshop or shop, or be delivered free of charge within a 50 mile radius of the shop. Beyond this distance we need to levy a small charge for fuel and time, but please do get in touch to discuss your circumstances.
International shipping can be arranged, but will add additional cost for shipping crate/freight charges/import duties etc - dependent upon country. Contact us to discuss your needs.